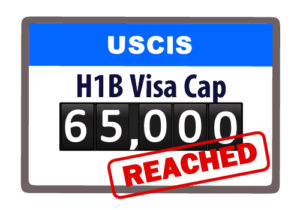 It is that time a year where employers and foreign professionals are wondering what to do after USCIS has announced to have reached the quota of H-1B visas per fiscal year. This article discusses other options available to skilled foreign workers and U.S. employers who do not want to lose their skills.
USCIS received over 236,000 H-1B petitions for 2017 fiscal year, including petitions filed for the advanced degree exemption.
On April 9, USCIS used a computer-generated random selection process, or lottery, to select enough petitions to meet the 65,000 general-category cap and the 20,000 cap under the advanced degree exemption. USCIS will reject and return all unselected petitions with their filing fees, unless the petition is found to be a duplicate filing.
Good news is, there are other options available to employers and foreign workers bedise the famous H-1B CAP!
H-1Bs that are not counted against the CAP:
The CAP only applies to new H-1B petitions. A person is not counted against the CAP if they have already been counted against the CAP within the past six (6) years. This means that the same person can apply for H-1B with a new employer and will not be counted against the CAP.
There is also a category of H-1B petitioners who are Cap-exempt. This category includes J-1 physicians who have obtained a waiver pursuant to the State 30 program or federal program. It also includes beneficiaries of employment offers at institutions of higher education, and petitioners who are a non-profit affiliated or related to an institution of higher education.

L-1 Intracompany Transferee Visa:
This type of visa allows companies with offices both in U.S. and foreign countries to transfer foreign employee to temporary work in the U.S. in executive, managerial, or specialized knowledge positions. There are no annual limits for this type of visas.
TN Visas:
This visa category allows Canadian and Mexican citizens to temporarily enter in the U.S. work in a professional position or a Business Consultant position.
E 1/E-2- Trade or Investor Visa:
This category allows citizens of foreign countries that have a treaty commerce and navigation, or a bilateral investment treaty providing for non-immigrant entries with the U.S.
E-3 Visa
The E-3 visa classification is limited to Australian Professionals. The E-3 visa is a "specialty occupation" visa similar to the H-1B visa. Therefore to be eligible for the visa, the Australian citizen must possess a bachelor's degree or higher (or its equivalent) in the specialty and the specialty occupation must require the degree. There is a 10,500 annual limit on the E-3 visa.
O-1 Visa:
The O-1 classification is suited for individuals of extraordinary ability or achievement. O-1 beneficiaries in the sciences, arts, education, business, or athletics must have extraordinary ability "demonstrated by sustained national or international acclaim." There is no annual limit for this classification.
OPT-STEM Extension:
Students who hold F-1 status and are completing their Optional Practical Training (OPT) can extend their training period for up to 17 months, if their field of study in Science, Technology, Engineering and Mathematics. The students must work for an employer who is registered for E-verify and must be enrolled in a major included in the STEM program list.
B-1 in lieu of H-1B:
This classification allows employee of a foreign company to enter in the U.S. to work temporarily for a short time for the affiliate U.S. Company. The foreign employee must occupy a professional occupation (which requires at least the attainment of a Bachelor's degree). Also, the foreign employee can only be paid by the foreign company and must comply with other B-1/B-2 requirements.
J-1 Trainee Visa
This classification allows exchange visitor who has a foreign degree or a professional certificate and at least one year of prior related experience to obtain training for up to 18 months with a U.S. company.
H-3 Visa 
This classification allows a temporary worker invited by an organization to receive instruction and training in any field of endeavor that is not designated primarily to provide productive employment.
Some of the classifications explained above only offer temporary work/trainee status for a short period of time and may entail some restrictions with regards to change of status to another classification.
One should consult with an immigration attorney to better lay out a strategy suitable for one's specific situation.
Finally, there is always an opportunity to apply for H-1B status when the next fiscal year opens and new H-1B CAP slots become available.
Author: Claudine Umuhire Gasana, Associate Attorney at the Office of Ruby L. Powers
Disclaimer: The content of this article is provided for informational purposes only and it is not intended to provide or be taken as a legal advice.
Written by Claudine Umuhire Gasana, Immigration Attorney
H-1B Visas, Non-immigrant Visa, Immigration Law, Immigration law trends, Houston Immigration lawyer
Contact Claudine Gasana Houston H1B Visa Attorney
This article is provided for information purposes. Should you have any questions or be interested to learn more about this topic, contact Immigration Attorney Claudine Umuhire Gasana at claudine@cugasanalaw.com or call us at 281-809-5599 or 713-836-9376
Attorney Gasana offers a variety of immigration services to the greater Houston area, including:
such as:

B-1, B-2, L-1 Work Visa, E-1 Treaty Trader, E-2 Investor, P Visas, F-1 and more.