What you need to know about E-2 Treaty Investor Visa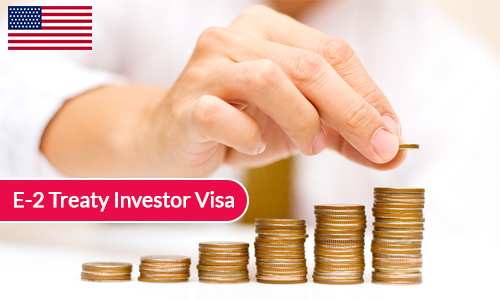 In the midst of the economy downturn, employees are being laid off among them foreign professionals and managers who have held non-immigrant visas for a long time are now wondering what to do to remain in status in the U.S.
One available and "self- petition" option is the E-2 non-immigrant visa status. 
An E-2 investor non-immigrant status is defined as "the investor's placing of capital, including funds and other assets, at risk in the commercial sense with the objective of generating a profit."
While this definition might seem intimidating, it is important to remember that essentially the investment must be for the purpose of establishing a new business venture or purchasing a pre-existing business. 

Five requirements must be met for an E-2 Investor Visa can be approved.
1. As a treaty investor, the individual must be coming to the US to invest in a new or existing enterprise- A treaty investor needs to show 50% ownership in a new or established enterprise. A treaty investor must show that he/she is in process of investing or has invested funds in a bona fide enterprise. Most people think that you have to invest the entire capital before applying for the E-2 visa. This is not accurate, you have to show considerable efforts in investing before applying for the E-2 visa and also, show that you possess the rest of the capital is substantial and at risk (unsecured).
2. The investment must not be marginal: Marginal means that investor must show potential of generating revenues and hiring U.S. workers. The investor must only overcome the presumption that he/she is not establishing an enterprise to solely sponsor his or her visa or pay him/her a salary.
3. The applicant must be in possession of funds that he or she will invest and the funds must be committed to the business- investor must demonstrate that the capital invested is irrevocably committed to the enterprise and subject to partial or total loss in the event that the entity fails. The funds you invest must also be your own. Donations are acceptable as long as you can provide evidence of total ownership and access to the funds. Additionally, the invested funds must be substantial in relationship to the total cost of either purchasing an established enterprise or creating the type of enterprise you are considering.
4. The applicant must be able to demonstrate the source of the capital: it is very important to keep track of all the funds transferred in to the new business, keep all receipts and open the business account and use the same account in paying for expenses of the business. Tip: all expenses made (including attorney's fees, accountant fees) for the purpose of establishing the new business entity count towards the capital invested.
5. The applicant must be coming to the US to develop and direct the enterprise. 
It is important to gather important documentation that can prove the previous points. The following list provides a great starting point for anyone thinking of applying for an E-2 Investor visa.
• Evidence of possession and control of investment funds: bank records, financial statements, loans, savings, promissory notes.
• Evidence of remittance of funds to the U.S.: canceled checks, bank drafts, transfers, exchange permits, receipts.
• Evidence of establishment of business in the U.S.: articles of incorporation, partnership agreements, organization and staffing charts, shares, titles, contracts, receipts licenses, leases.
• Evidence of investors' nationality: passports, articles of incorporation of parent company, stock exchange listings.
• Evidence of investment in the U.S.: titles, receipts, contracts, loans, bank statements.
• Evidence of the substantiality of the investment: contracts, work orders, financial statements, audits, corporate tax returns.
• Evidence that the enterprise is not marginal: payroll records, payroll tax forms, personal tax returns or other evidence of personal income and assets.
• Evidence that the enterprise is a real, operating business: annual reports, catalogs, sales literature, news articles, liability insurance records, permits (inspection permits, etc.).
• Evidence of the qualifications of the prospective employee: resume, diplomas, certificates.
Additionally, it is imperative to remember that not everyone can apply to an E-2 visa. The countries found in this list are the only ones approved to apply for an E-2 visa.
Finally, E-2 visa status application can be filed through USCIS California Service Center for a change of status applications or at U.S. Consulate abroad.
Written by Claudine Umuhire Gasana, Immigration Attorney
investor visas, entrepreneur's visas, immigration law, Houston immigration attorney
Contact Claudine Gasana Houston E2 Visa Attorney
This article is provided for information purposes. Should you have any questions or be interested to learn more about this topic, contact Immigration Attorney Claudine Umuhire Gasana at claudine@cugasanalaw.com or call us at 281-809-5599 or 713-836-9376
Attorney Gasana offers a variety of immigration services to the greater Houston area, including:
such as:

B-1, B-2, L-1 Work Visa, E-1 Treaty Trader, E-2 Investor, P Visas, F-1 and more.