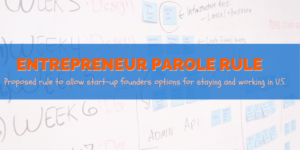 On January 17, 2017, The Department of Homeland Security (DHS) published a final rule aimed at improving the ability of certain promising start-up founders to begin growing their companies within the United States and help improve the national's economy growth through increased capital spending, innovation, and job creation.
This ruled defines "Parole" as a period of authorized stay on case-by-case basis to foreign entrepreneurs who establish that their stay in the U.S. "would provide significant public benefit through the potential for rapid business growth and job creation. There will be 2,940 paroles issued annually.
Initial parole will be issued for a period of 30 months with a possibility of a renewal in the discretion of the department of Homeland Security. In addition, each start-up company may be eligible for up to three (3) entrepreneurs in Parole status. Spouses and children of entrepreneurs will be eligible for parole as well.
Entrepreneurs may only work for their start-entity. Their spouses will be eligible to apply for work authorization in the U.S., although their children will not be allowed to work.
Key Criteria to qualify for the International Entrepreneur Parole:
– The startup company must have been created within the past 5 years of the time an initial parole application is filed;
– The start-up must have significant capital investments from well-established U.S. investors of at least $250,000 or government grants or awards of at least $100,000. If the applicant can only meet half of the required capital, he/she must present "reliable and credible evidence of significant potential for rapid growth and job creation."
– The applicant must possess a substantial ownership interest in the startup company (minimum of 10% ownership)
– The applicant must have a central and active role in the startup company. In other words, the applicant must be well positioned to substantially assist with the growth and success.
– After the initial period of parole, entrepreneurs may qualify for an extension for an additional 30 months (2 ½ years), if they can demonstrate that they continue to hold a 5 percent (5%) interest in the startup and play an active role in operation, and that the startup meets growth criteria of $500,000 in annual revenues, an average of annualized revenue growth of 20%, and has created five (5) full-time jobs in the U.S. during the initial parole period.
– Qualified Investor : an individual or organization may be considered a qualified investor if, '"during the preceding 5 years: (i) The individual or organization made investments in start-up entities in exchange for equity or convertible debt or other security convertible into equity commonly used in financing transactions within their respective industries of no less than $600, 000; and (ii) subsequent to such investment by such individual or organization, at least 2 such entities each created at least 5 qualified jobs or generated at least $500,000 in revenue with average annualized revenue growth of at least 20 percent. "
– This rule will be effective on July 17, 2017
– Parole does not constitute admission or a non-immigrant status, therefore, parolees are ineligible to change status to a non-immigrant or adjust to immigrant status. However, should they qualify for O-1 non-immigrant or Lawful permanent resident status via National Interest waiver category, they will need to leave the U.S. and apply for a visa at a U.S. Consulate.
Contact Claudine Gasana Employer Attorney Houston, Texas
This article is provided for information purposes. Should you have any questions or be interested to learn more about this topic, contact Immigration Attorney Claudine Umuhire Gasana at claudine@cugasanalaw.com or call us at 281-809-5599 or 713-836-9376
Attorney Gasana offers a variety of immigration services to the greater Houston area, including:

Visas
such as:

B-1, B-2, L-1 Work Visa, E-1 Treaty Trader, E-2 Investor, P Visas, F-1 and more.
Author: Claudine Umuhire Gasana, Immigration Attorney 
Filed under: International Entrepreneurs Parole, Immigration Law, International investors, Houston Immigration Lawyer