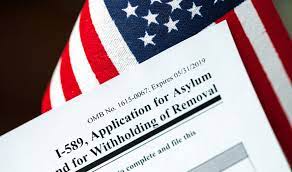 General Provisions for Use of Form I-589, Application for Asylum and for Withholding of Removal
Under of the INA: 8CFR sections 208 and 1208 to qualify for asylum, noncitizen must establish that he is a refugee who is unable or unwilling to return to his country of nationality because of persecution or well-founded fear of persecution on account of race, religion, nationality, membership in a particular social group, or political opinion
Asylum application is also considered to be an application for withholding of removal under section 241 (b)(3) of the INA
This application may also be used to apply for protection under the Convention Against Torture
The Noncitizen may file this application if he is physically present in the United States.
The Asylum application must be submitted within 1 year of arriving in the USA, unless there are changed circumstances that materially affect the eligibility for asylum or extraordinary circumstances. 31, 2023, Starting July 31, 2023, will be accepted only the March 1, 2023 edition of the Form I-589. Until then, will be used Form I-589, edition of October 12, 2022.
Changes to Form I-589 and filing requirements:
1) Unlike edition of October 12, 2022, filing new edition of the Form I-589 Applicants NO LONGER NEED to submit:
a passport-style photo,

multiple copies of the form,

multiple copies of the supporting documentation.
2) New Filing Location for Certain Affirmative Asylum Applications Submitted by Mail to help streamline asylum processing:
To ensure timely receipt of the asylum application, starting May 31, 2023, asylum applicants need mail their Form I-589 to the lockbox with jurisdiction over the applicants' place of residence instead of to the service center.
However, please note! The following categories of affirmative asylum applicants must continue to mail their asylum application directly to the Asylum Vetting Center, following the instructions on the Form I-589 page:
Loss of Derivative Status After Asylum Approval but Before Adjustment of Status (Nunc Pro Tunc);
Loss of Derivative Status After Initial Filing but Before Final Decision;
Simultaneous Filing as a Principal Applicant and a Derivative Applicant;
Previously Issued a Final Action by USCIS on a Form I-589; and
Previously in Immigration Court Proceedings.
3) Online Filing of Form I-589 Is Also AVAILABLE!
Online filing is encouraged for affirmative asylum applicants who are not in immigration court proceedings and who do not have to submit their application to the Asylum Vetting Center.
To avoid processing delays, asylum applicants must carefully review the "Where to File" and "Special Instructions" sections of the Form I-589 page before submitting their asylum applications!
This article is provided for information purposes. Should you have any questions or be interested to learn more about this topic, contact Immigration Attorney Claudine Umuhire Gasana at [email protected] or call us at 281-809-5599.