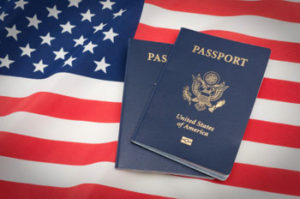 In the midst of chaotic changes in immigration enforcement policies, it is wise to think of a permanent solution to shield immigrants from being affected by those changes. That solution is filing for a citizenship application for those who qualify. See who qualifies for citizenship:https://www.uscis.gov/sites/default/files/files/article/chapter4.pdf
Here are FIVE reasons why applying for a U.S. Citizenship is the best option to protect you from immigration enforcement pitfalls:
1) A US Citizen benefits from all protections provided by the U.S. Constitution and Bill of Rights and cannot be subject to deportation. Even though green card holders have protection of most U.S. Constitution rights, they still may be deported for such reasons as committing a serious crime. Citizens hold a much stronger place in U.S. society and may not be deported.
2) A US Citizen can travel freely with a US Passport: US citizens, including naturalized citizens, enjoy more rights and freedoms than noncitizens. All citizens have the right to a U.S. passport. A U.S. passport allows you not only to travel internationally, in many cases without needing a visa, but also to re-enter the United States freely. In addition, a US Citizen can live anywhere in the US without having to report a new address change to immigration officials. A U.S. citizen can live outside the U.S. for as long as they wish whereas a U.S. Permanent Resident must physically reside in the U.S. for a certain period of time or otherwise risk to lose his/her U.S. residency. A U.S. citizen, also enjoys the protection of the US and its consulates and embassies.
3) A U.S. Citizen has right to vote and be elected as a Government Official The right to vote. One of the biggest advantages to US citizenship is that you will have the right to vote in state and federal elections. This means that you will have the opportunity to take part in politics and to decide on the future of the nation. Many people around the world fight and risk their lives for the right to elect their leaders. As a US citizen, you will enjoy this right for the rest
of your life.
4) U.S. Citizen can protect his/her family from immigration law enforcement pitfalls: US citizens have the right to sponsor their immediate family and relatives for a US green card. As a citizen, you can petition for an immigrant visa, a green card, for your spouse, children, parents and siblings whereas Permanent residents may only petition for spouses and children. In the environment, we are living in right now where Immigration Enforcement Police is rounding up undocumented immigrants for deportation, those married to U.S. citizens or who have U.S. citizen children have better chances of not being deported unless of course they have a criminal record or final order of deportation.
5) Federal Employment: While a US green card gives you the right to apply for most jobs in the US, there are a few jobs which require US citizenship or extensive security clearance. As a US citizen, you will eligible to apply for virtually any job in the US, and you will even be allowed to run for office. You will also become eligible for federal benefits and social benefits.
This article is provided for information purposes. Should you have any questions or be interested to learn more about this topic, contact Immigration Attorney Claudine Umuhire Gasana at contact@cugasanalaw.com or call us at 678-296-4796.
Filed under: Citizenship and Naturalization, Immigration law