Immigration Updates in the month of April 2017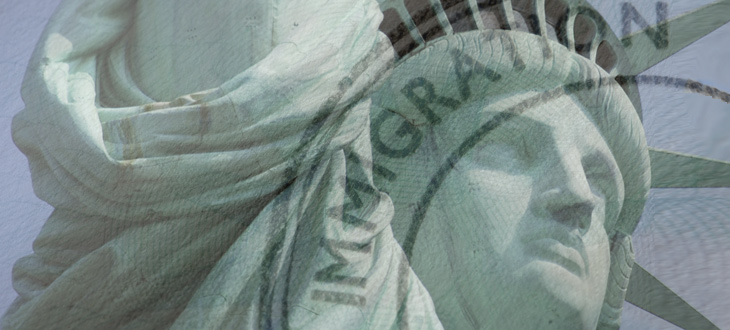 On April 25, 2017, A Federal district court issued a nationwide injunction against §9(a) of Executive Order 13768-Enhancing Public Safety in the Interior of the United States, which blocks so-called "sanctuary jurisdictions" from receiving federal grant money. The Court concluded that the Executive Order violated the Separation of Power clause of the U.S. Constitution (County of Santa Clara v. Trump, 4/25/17). Source: http://www.cnn.com/2017/04/25/politics/sanctuary-cities-injunction/
On April 18, 2017, President Trump signed the "Buy American" "Hire American" Executive Order. The Executive Order directs the Secretary of State, Attorney General, Secretary of Labor, and Secretary of Homeland Security to propose new rules and issue new guidance to "protect the interest of United States workers in the administration of our immigration system, including through the prevention of fraud and abuse." The Order also directs the agencies to suggest reforms to prioritize "the most-skilled or highest-paid petition beneficiaries" in awarding H-1B visas. Though the Order does not provide detail regarding these reforms or impose deadlines on the agencies, a background briefing posted by the White House indicates that the administration is considering specific changes to the H-1B system, including giving greater weight to H-1B applicants with advanced degrees and higher wages, and increasing application fees. This year's H-1B lottery process will not be affected. Source: https://www.whitehouse.gov/the-press-office/2017/04/18/presidential-executive-order-buy-american-and-hire-american
On April 17, 2017 USCIS finished the H-1B Cap Random Selection Process for FY2018. USCIS received 199,000 H-1B petitions during the filing period, which began April 3, including petitions filed for the advanced degree exemption. This number represents a 15.7 percent decrease from the 236,000 petitions that USCIS received during last year's filing period. On April 11, USCIS used a computer-generated random selection process, or lottery, to select enough petitions to meet the 65,000 general-category cap and the 20,000 cap under the advanced degree exemption. USCIS will reject and return all unselected petitions with their filing fees, unless the petition is found to be a duplicate filing.
On April 12, 2017, USCIS issued a policy memo that designated Matter of I-Corp as an adopted decision. Matter of I- Corp. clarifies that USCIS cannot approve a visa petition that is based on an illegal or otherwise invalid employment agreement. To prevent a potential conflict with the Fair Labor Standards Act, USCIS must ensure that a beneficiary will not be paid a wage that is less than the minimum required wage under state or Federal law, whichever is higher, before approving an employment-based visa petition. This decision was adopted after a U.S. company filed a Petition to transfer its employee to the U.S. sought to pay him at $6.7 rate per hour which is below the U.S. federal minimum wage. The Administrative Appeals Office (AAO) concluded that while reviewing eligibility for an immigration benefit, USCIS Officers must also ensure compliance with other areas of law such as criminal, family and labor law.
On Sunday, April 16, 2017 while on "NBC Meet The Press," DHS Secretary John Kelly confirmed in the interview that Immigration and Customs Enforcement (ICE) recently completed "a targeted operation" to go after visa overstays, or people who have stayed in the country past their visa expiration date. He stated that increasing number of the undocumented population are visa overstays. This means that individuals who entered the U.S. in visitor status, student status or other non-immigrant status and overstayed their visas or otherwise violated their status are a deportation priority for this administration. We have also noticed that those who entered the U.S. and later filed for a change of status and were denied, are being pursued as ICE has begun to issue Notice to Appear (NTA) before an Immigration Judge so that removal proceedings are started. We have also noticed that hearings before an Immigration Judge are being scheduled quickly right after the NTA is issued. The risk of missing a hearing is higher because in our experience, most people move around during their stay in the U.S. and never file a change of address with USCIS. When a NTA or a hearing is issued, it is sent to the last address on record with immigration. If one misses a hearing, an Immigration Judge will most likely issue a removal order "in absentia." Once a removal order is issued and is not appealed, Immigration Customs Enforcement (ICE) will apprehend the removed individual and deport him/her.
Contact Claudine Gasana Immigration Attorney Houston, TX
This article is provided for information purposes. Should you have any questions or be interested to learn more about this topic, contact Immigration Attorney Claudine Umuhire Gasana at claudine@cugasanalaw.com or call us at 281-809-5599 or 713-836-9376
Attorney Gasana offers a variety of immigration services to the greater Houston area.